Industrial Dome hangar for Manufacture & Cargo Areas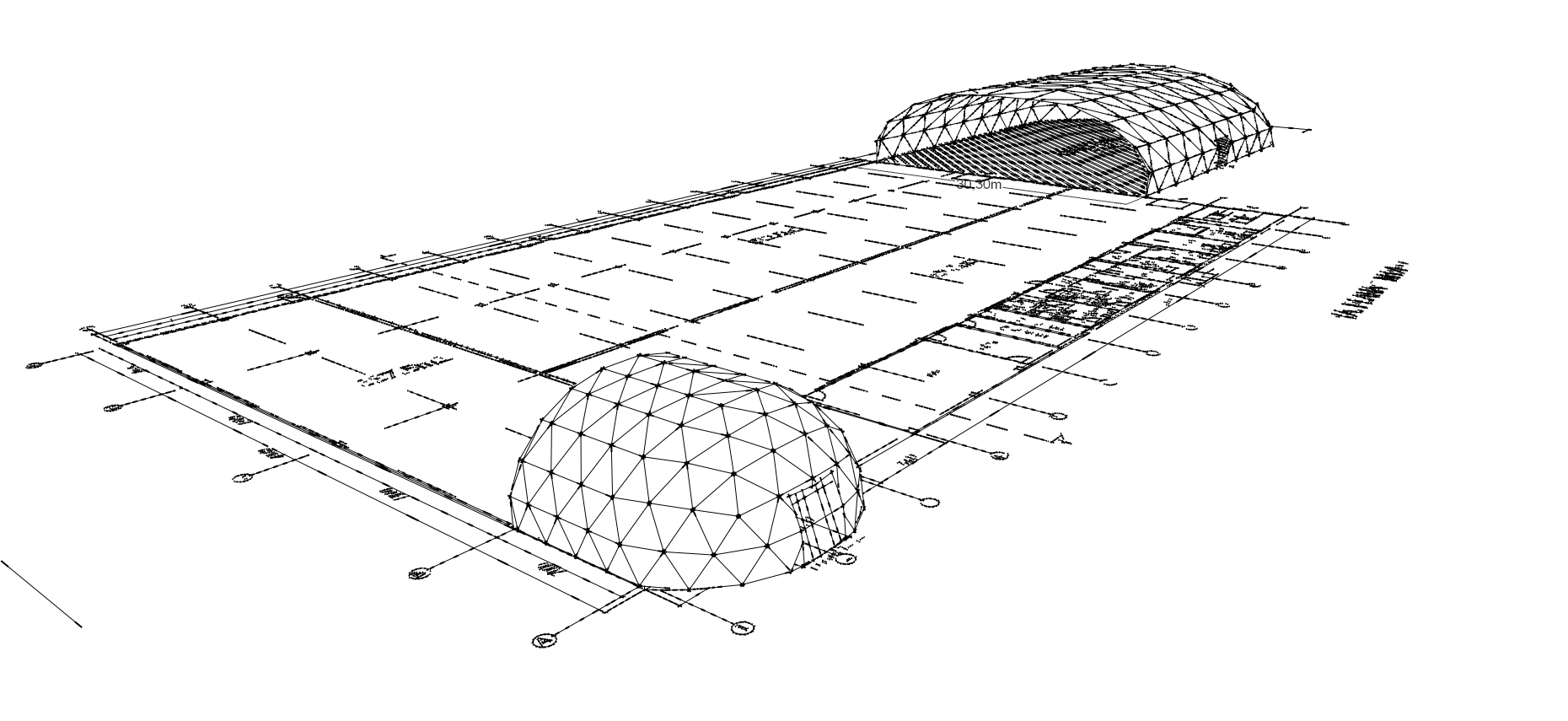 Geometric and geodesic structures. Facades and roofs.GEODOMAS specialise in planning and manufacturing geodesic domes and unique geometrical free-form constructions.
We provide design, calculation of estimates, manufacture of constructions and installation services.
Our team consult, design, produce and assemble a variety of geometric shapes of buildings or parts thereof – roofs, facades and other items, domes and free form structures.
Proposed hangar supports:
Galvanized Steel S235 welded supports
Galvanized Structural SteelS350 GD + Z275MA bent profile versatile supports. Versatile profile support construction can be applied to all types' of covers.
Aluminum profile and galvanized steel parts supports. Resistant to marine climate impacts. Suitable for mobile use.
Inflatable hangars – air-supported structures. Short production and installation deadlines, ability to carry out installation works without the help of professionals.
Proposed hangar covers:
PVC tilt 630-900 gr/m2;
Double layer PVC tilt with an air gap (with support or inflatable);
Double layer PVC tilt with expandable polystyrene bead filler;
Shaped tin sheet;
"Sandwich" type board – sandwich insulated panel;
Polycarbonate;
Glazed or tempered glass.
You can mix together different covers for hangar roof and walls: for example PVC tilt roof cover and galvanized and painted tin metal sheets for wall, and etc. PVC tilt cover – the least expensive of the proposed covers is made of high quality and durable PVC sheet, the choice of colors is here. This cover is fireproof according to DIN 4102 B1 requirements.
The installation of all the proposed types of supports is simple; we provide clients with drawings. We install, or help to organize the installation.
Proposed gates:
PVC tilt gates: curtains, sliding, wrapped;
Speed gates: spiral or roll system. Used in industrial, trade and internal storage areas;
Standard gates: sectional lift, sliding, swing.
Proposed windows: transparent reinforced PVC tilt, transparent not reinforced PVC tilt, polycarbonate, glazed glass with or without plastic frames.
Proposed doors: metal, plastic, with glazed glass or with filler
Portable Domes
Our
Projects