Cocoon Village Corsica | Modern Glamping Tree House
Cocoon village
Address: L' Ospédale, 20137 Porto-Vecchio, France
Telephone: 0619810619
Order: www.airbnb.com/rooms/15876945
Web-site: www.glampingcorsica.com
We ship Cocoon Resort Structures worldwide for all purposes. No matter where your resort or camp will be located – on water, rocks, desert, sand, a grassy plain, tropical beach, ice field or in dense rainforest – we will ensure it is designed & manufactured & built to environmentally sustainable, cost-effect , safe and long-lasting.
Sleep among the birds with this modern tree house.
Complete with a high-density foam mattress, cotton sheets, duvet cover and wooden floor, the Cocoon Tree makes for the ideal hangout for two adults with the utmost privacy. Place it on the ground with a platform or suspend from above; the spherical structure is made of waterproof canvas tarpaulin and high-density aluminum T6 the same material used in airplane construction and hung from 12 fixing points, six ropes for suspension and six for lateral stability
GEODOMAS concentrates on the product comfort and environmental integration greatly, provides a variety of decoration schemes and tent camp planning services for the interior hotel-style wild luxury tent with exquisite craftsmanship and dialysis of the natural environment, letting you enjoy the freshness and tranquility of nature in the busy life.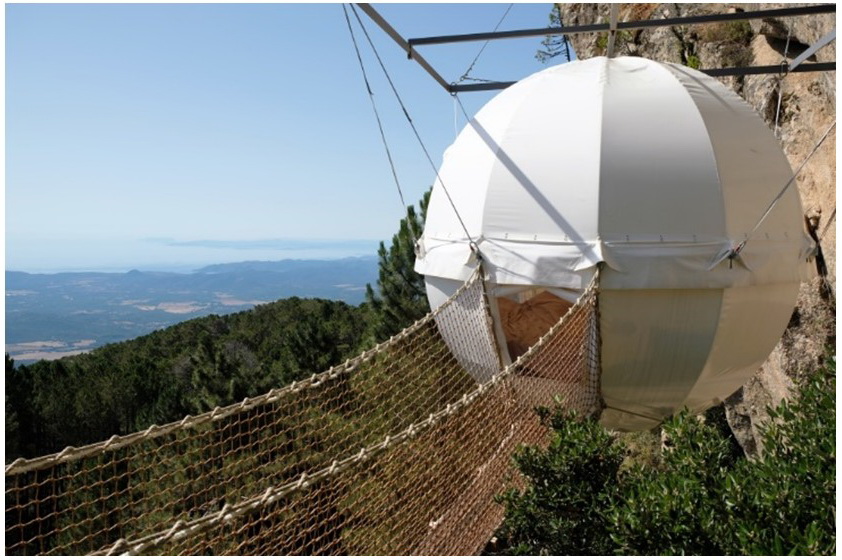 Enjoy your dream home or personal studio. There is much time and financial investment required for traditional construction. The domes of our eco-living are built easily and quickly, reducing construction costs, using the least resources to close the space, and they are unique at an affordable price.
ONLINE SHOP
Our proposal for the site, which faces forest beyond, includes 3 Tree-Hotels standing amongst the trees for a high-end holiday resort.