Eco City In The Framework Of The Program "New World" | Eco-Friendly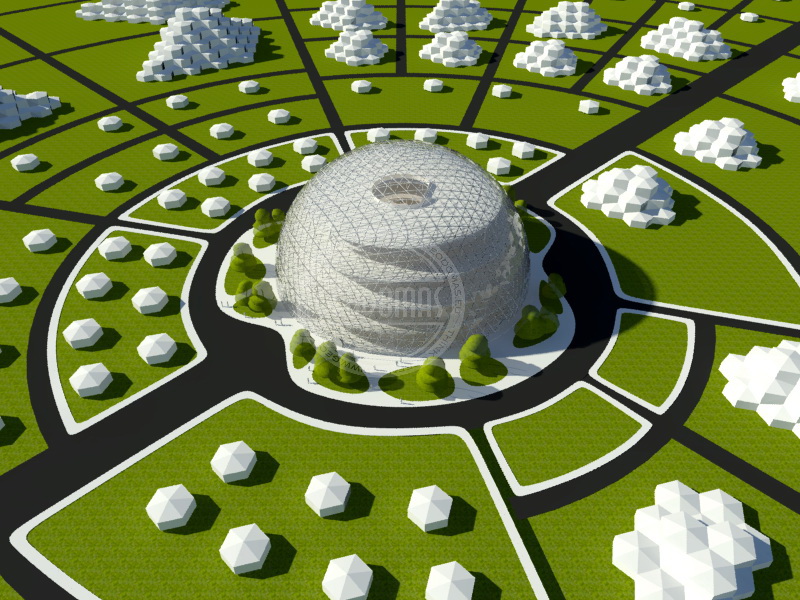 Eco-city "New World" is projected on a circular system. The buildings are formed into thematic quarters with the possibility of extending the quarter zones around the perimeter. Project Designed specifically for the New World by GEODOMAS.
Possible number of floors inside Central Dome – up to 7.
1st floor – 3849 m2
2nd floor – 3735 m2
3rd floor – 3380 m2
4th floor – 2827 m2
5th floor – 2038 m2
The central building is a complex structure, which in one volume provides the opportunity for joint operation of all systems, all alternative energy sources. This can be the energy of wind, solar, thermal radiation, it is possible to use the energy of isotope sources. Those energy sources, which we have worked out, can be used in an optimal way.
https://sfw.so/1149005050-mir-uvidel-proekt-plana-pervogo-ekogoroda.html

We ship resort structures around the world for all kinds of purposes. No matter where your resort or camp is located – whether on water, rocks, desert, sand, grassy plains, tropical beach, ice field or dense rainforest – we will ensure that it is designed, built and built to be environmentally and economically sustainable, secure and durable.
The GEODOMAS Team will gladly answer any questions you might have and offer their creativity and experience to come up with the best solution for your project. Do not hestitate. Get in touch!

Homes For Life
Our Buildings
Projects