Dome Scene-Estrada Ø6m for Desyn Masiello-Omid 16B-Demi @ Pure Future White 2009 Vilnius, Lithuania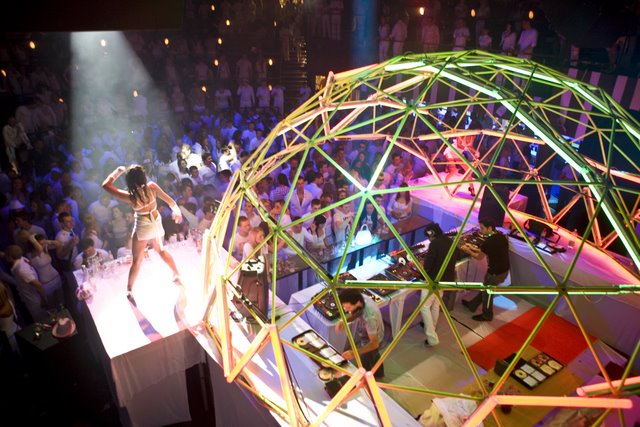 Geodesic dome scene estrada of 6 meters in diameter, used as DJ's booth, in a popular festival called "PURE FUTURE" The structure has been covered with neon lights, giving an awesome atmosphere to the party.
A disc jockey, more commonly abbreviated as DJ, is a person who plays recorded music for an audience. Most common types of DJs include radio DJs, club DJs (who work at a nightclub or music festival), mobile DJs (who are hired to work at public and private events such as weddings , parties, or festivals), and turntablists (who use record players, usually turntables, to manipulate sounds on phonograph records)

Enjoy your dream home or personal studio. There is much time and financial investment required for traditional construction. The domes of our eco-living are built easily and quickly, reducing construction costs, using the least resources to close the space, and they are unique at an affordable price.

We ship resort structures around the world for all kinds of purposes. No matter where your resort or camp is located – whether on water, rocks, desert, sand, grassy plains, tropical beach, ice field or dense rainforest – we will ensure that it is designed, built and built to be environmentally and economically sustainable, secure and durable.
Additional Info
Object page: ForumPalace
Object address: Vilnius, Lithuania
Technologies: Steel frame elements
Project date: 2009
Floor area, m2: 28
Cover area, m2: 54
Geometry type: Icosahedron

ONLINE SHOP
Portable Domes
Our
Projects